South Dakota Gov. Kristi Noem (R) and state Attorney General Marty Jackley sent a letter to pharmacists on Tuesday warning them that despite the Food and Drug Administration's (FDA) rule change around mifepristone, dispensing abortion pills is illegal in the state.
"In 2022, the United States Supreme Court held that there is no federal constitutional right to an abortion. In doing so, all abortions became illegal in the State of South Dakota, except those necessary to save the life of the mother. This prohibition includes chemical abortions," the letter reads. "In South Dakota, any person who administers, prescribes, or procures for any pregnant female any medicine or drug with the intent to induce an abortion is guilty of a felony."
The letter was sent in reference to an early January FDA regulatory change allowing retail pharmacies to dispense mifepristone — the first pill used in a two-drug medication abortion regimen — in-store and by mail order, though patients will still need a prescription from a certified health care provider. At the same time, the FDA officially removed the in-person requirement from its regulatory rule book for mifepristone, meaning women will continue to be able to obtain a prescription for the abortion pill via telemedicine. Following the rule change, spokespeople from Walgreens, CVS, and Rite Aid said the pharmacy chains will dispense abortion pills where legal.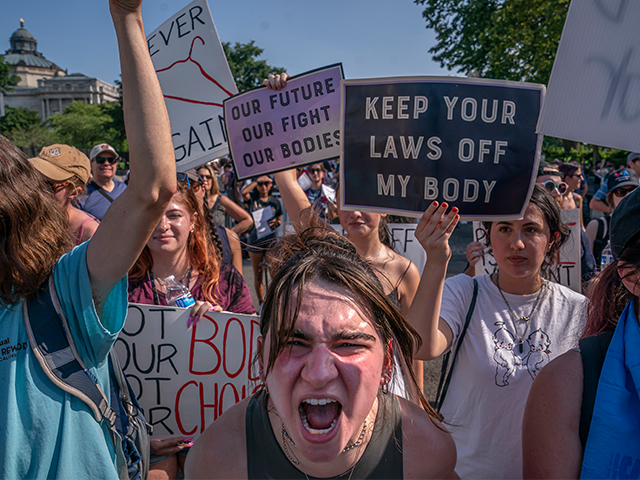 Pro-abortion activists protest in front of the Supreme Court on June 26, 2022, in Washington, DC. (Nathan Howard/Getty Images)
In South Dakota, a trigger law passed in 2005 banning abortions except to save the life of the mother, went into effect following the Supreme Court's Dobbs decision in June of 2022. Noem and Jackley wrote that the FDA changed the rule to "evade the pro-life evolution of the law" and warned that the rule change "permits dangerous, at-home abortions without any medical oversight."
"Mifepristone, sold under the brand name Mifeprex, when used in conjunction with Misoprostol, is an abortion-inducing drug. This side-stepping on the part of the FDA permits dangerous, at-home abortions without any medical oversight. It also violates state law that makes dispensing this medication for abortions a felony," the letter continues, noting that "their resources should be focused on helping mothers and their babies, both before birth and after."
"All abortions, whether surgically or chemically induced, terminate the life of a living human being. South Dakota will continue to enforce all laws including those that respect and protect the lives of the unborn. We trust pharmacists doing business in this state will take the same approach to respecting life," the letter concludes.
South Dakota is not the only state to take a stand against the FDA's rule change. Last week, Florida's Agency for Health Care Administration warned pharmacies the new FDA rule violates Florida law. Currently, abortion is illegal in the Sunshine State after 15 weeks of pregnancy with few exceptions, including preserving the life of the mother. The 15-week ban is down from the previous 24-week ban.
Twenty-two state attorneys general have also written to the FDA urging the agency to reverse course, and more than a dozen pro-life organizations asked the retail pharmacy giants not to turn themselves "into abortion facilities."
"Chemical abortion drugs are not just another pill. Selling these drugs would transform these centers of healing into abortion facilities that kill children in their mothers' wombs, "the pro-life organizations said.
SD Gov. Kristi Noem to Pharmacists: Dispensing Abortion Pills Is Felony have 696 words, post on www.breitbart.com at January 25, 2023. This is cached page on TechNews. If you want remove this page, please contact us.