Work on HCMC's metro line 2 to start in mid-2022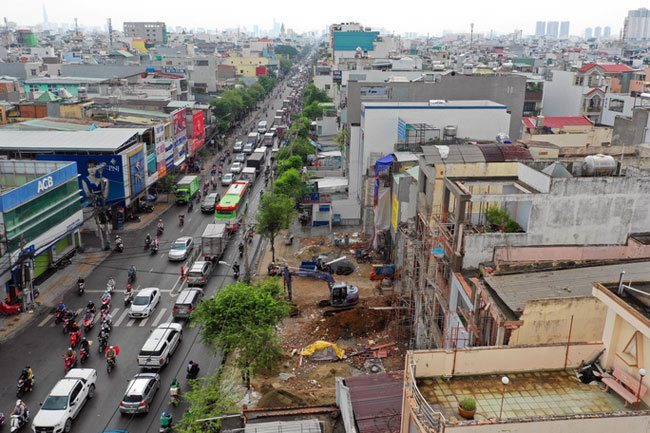 A road section is cleared to make room for HCMC's second metro line project. Work on the project is expected to start next year – PHOTO: NLDO
In a report on the project's progress sent to the Ministry of Planning and Investment, Binh stated that the site clearance work for the project would be completed in the first months of this year, while the relocation of technical infrastructure facilities would start in August, the local media reported.
The Management Authority for Urban Railways of HCMC is completing procedures to invite tenders for the project this year.
According to the municipal government, the project is facing some obstacles, such as reappraising loan conditions, extending a loan contract with the German development bank KfW that expired on December 31, 2020, and signing an appendix with the consulting firm of the project, Implementation Consultant, which stopped work on the project in October 2018.
Therefore, the city proposed the Ministry of Planning and Investment support the removal of these obstacles, so that the project can be completed as scheduled.
The second metro line project in HCMC, which requires an estimated investment of more than VND47.8 trillion, was designed to be over 11 kilometers long, including a 9.2-kilometer underground section, an elevated section and an approaching road section to the Tham Luong Depot. The metro line will include nine underground stations and an elevated station.
The cleared sites have been handed over for four stations—S9-Ba Queo in Tan Binh District, S10-Pham Van Bach, S11-Tan Binh and S5-Le Thi Rieng. In addition, the office building and auxiliary facilities at the Tham Luong Depot have been built.
As planned, the route will be constructed for four years and put into operation in 2026. Once in place, it will connect the first metro line at the Ben Thanh Station in District 1 and metro lines No. 5, 3b, 4 and 6.
HCM City searching for foreigner who fled quarantine centre
Relevant agencies in Ho Chi Minh City are searching for a foreigner who failed to observe quarantine regulations after entering Vietnam illegally, the city's Centre for Disease Control (HCDC) announced on March 18.
Police in Cu Chi district announced the search for Yang Gui Bin, a Chinese national born in 1986, who had previously been quarantined at the Cu Chi Hospital for COVID-19 Treatment after being caught by police for illegal entry.
Yang tested negative twice for the coronavirus SARS-CoV-2 on March 6 and 11, and then fled on March 15.
According to the HCDC, 824 health workers at the city's Hospital for Tropical Diseases had received shots against COVID-19 as of March 16.
Some of those vaccinated displayed predicted symptoms such as pain at the site of injection, muscle pain, headache and fever, but all are now in a stable condition.
The municipal Department of Health has asked the HCDC to hold training courses at vaccination sites on the implementation of the COVID-19 inoculation drive./.
15th NA election: Presidium of VFF Central Committee holds second consultative conference
The Presidium of the Vietnam Fatherland Front Central Committee held the second consultative conference on March 18 to reach agreement on a preliminary list of candidates nominated by central agencies for the upcoming election of deputies to the 15th National Assembly.
In opening the conference, Tran Thanh Man, President of the VFF Central Committee and Vice Chairman of the National Election Council, noted that according to election regulations, consultative conferences will be held three times to select worthy candidates for the election in a democratic manner.
The Presidium of the Vietnam Fatherland Front Central Committee held the first consultative conference on February 4, and the third one will be completed before 5pm April 19.
After the first consultative conference, agencies, organisations and units held meetings to nominate candidates for the NA election, and to collect voters' opinions on their nominees.
According to Man, by March 17 the VFF had received dossiers of 205 nominated candidates, and preparations for the election are going according to schedule and in compliance with regulations.
At the conference, 100 percent of delegates approved the preliminary list of 205 candidates nominate by central agencies, organisations and units.
As of March 17, the number of nominated candidates nationwide stood at 1,161, which is 2.3 times the number of deputies to be elected to the NA.
It is noteworthy that 24 provinces and cities reported 77 self-nominated candidates, including 30 in Hanoi, and 16 in Ho Chi Minh City.
The elections of deputies to the 15th-tenure National Assembly and all-level People's Councils for the 2021-2026 tenure are scheduled to take place on May 23.
Critically ill infected patient recovers in biggest coronavirus hotspot
A critically ill infected patient has been discharged from hospital in Hai Duong province, the epicenter of Vietnam's latest coronavirus outbreak, after making a full recovery from the virus.
The man was admitted to field hospital No. 2 on February 17, suffering from severe respiratory failure, rapid shallow breathing, and extremely low oxygen levels in the blood. CT scan results show his lungs were seriously damaged.
His deteriorating health forced doctors to put him on a ventilator and a dialysis machine the following morning.
After 3 days of receiving intensive care and treatment, the patient displayed signs of recovery. He did not need an ECMO intervention – a therapy that is used to support critically ill patients.
The patient was able to breathe himself on February 23 and walk with support from medical workers the following day.
"I am very happy to be released for home. I would like to thank doctors for saving my life," the man said after receiving intensive care and treatment for nearly a month in the hospital.
Field hospital No2 has been established after the virus recurred in Hai Duong in late January 2021. It has since given treatment to 376 patients, of whom 234 have recovered and have been discharged from hospital.
Scholarships for Vietnamese students in India announced
The Embassy of Vietnam in India, with support from the Centre for Indian Studies at the Ho Chi Minh National Academy of Politics and the Centre for Vietnamese Studies in New Delhi, held a ceremony on March 17 to announce the Ambassador Scholarships for Vietnamese Students in 2021.
Some 113 scholarships will be granted to Vietnamese students in undergraduate and postgraduate studies at four Indian institutions: the Integral University in Lucknow, the capital of Uttar Pradesh; the Kalinga Institute of Industrial Technology in Bhubaneswar, Odisha; Rishihood University in Haryana; and Sharda University in Noida, Uttar Pradesh.
Priority will be given to disadvantaged students from ethnic minority and vulnerable groups. Recommended majors include medical and pharmaceutical technology, engineering, and management, among others.
Speaking at the ceremony, Vietnamese Ambassador to India Pham Sanh Chau expressed his hope that, through the scholarships, more Vietnamese students will study in India and experience the local culture. They will also help promote India as an educational destination of potential, he added./.
Vietnam listed among countries with cheapest Internet service in Asia
The average monthly cost of broadband Internet in Vietnam was US$12.4, much cheaper than in Indonesia, Malaysia and the Philippines.
Vietnam is among the countries with the cheapest internet service in the world, accornding to a report by Cable.co.uk, a private company researching cable television services, Internet and telecommunications of the UK.
Cable.co.uk collects data from 3,288 fixed network service providers in 211 countries in the world, from October to December 2020. The average amount that users in the world have to spend a month on Internet connection is US$78.14.
Accordingly, Vietnam ranks 12th in the world, 6th in Asia and 1st in Southeast Asia in terms of low internet service rates. Average users in Vietnam spend US$11.27 (equivalent to VND260,000) for a month on Internet connection.
The average monthly cost of broadband Internet in Vietnam was US$12.4, much cheaper than in Thailand (US$25.9), Indonesia (US$32.5), Malaysia (US$34.9), and the Philippines (US$51.1).
Around 64 million Vietnamese, or over half the country's population, are online.
In contrast, African countries with poor telecommunications infrastructure, lack of competition among service providers and low average income are the ones with the highest internet cost in the world.
Particularly, Internet users in Eritrea have to spend an average of US$2,666 per month. The next one is Mauritania, with US$ 712.46 for a month of internet connection.
Ukraine is the country with the cheapest internet rates in the world, with an average price of only US$6.41 per month. It is followed by Syria, with an average Internet rate of US$6.49 per month.
Mekong Delta needs to urgently protect underground water resource
Water supply companies in Soc Trang, Ca Mau, Bac Lieu, Kien Giang, An Giang and Hau Giang provinces expressed their concern over exploited water reserve and the quality of groundwater water source through a seminar titled "Protecting and efficiently exploiting underground water resources in the South of Hau River" on March 17.
Similarly, General Director of Kien Giang Water Supply and Sewerage Limited Company (Kiwaco) Mr. Au Van Tam shared that Kiwaco put 80 to 110- meter deep wells into operation at Ca Mau Peninsula with a capacity of 50 meters cubic per hour; however, the high salinity and iron concentrations significantly impact on quality of water resource.
Speaking at the seminar, a representative of Ca Mau Water Supply Joint Stock Company (Cawaco) said that Cawaco has a water supply factory in Ca Mau City and seven branches in districts in addition to 63 wells in a depth of 180 to 240 meters. Last year, Ca Mau Province had reports about the reserve depletion as well as abnormal water quality.
General Director of Soc Trang Water Supply Joint Stock Company Mr. Dang Van Ngo also worried about outdated wells affecting underground water quality.
Dr. Anke Steinel, who is geoscientist and hydrologist of the German Federal Institute for Geosciences and Natural Resources, said that the Mekong Delta is facing with challenges for underground water resource under the impact of climate change, sea level rise and water resource exploitation. As this reason, the Mekong Delta needs to urgently have solutions for protecting and managing underground water resources.
Sport tournament marks ties between Vietnamese, Lao public security forces
The Vietnamese Ministry of Public Security's representative agency in Laos, together with the Embassy of Vietnam and the Lao Ministry of Public Security, held a friendly sport tournament in Vientiane on March 17.
The event was part of activities to commemorate 60 years since the first group of public security experts from Vietnam was sent to Laos on March 22, 1961 to assist the Lao public security force at the request of the Parties and Governments of the two countries, marking the start of official cooperation between the two forces.
It was also aimed to mark the 60th founding anniversary of the Lao public security force on April 5.
Addressing the opening ceremony, head of the Vietnamese Ministry of Public Security's representative agency in Laos Maj. Gen. Hoang Quang Huong affirmed that the cooperation between the two public security forces has played a key role in the great friendship, special solidarity and comprehensive cooperation between Vietnam and Laos in the past six decades.
The sport tournament, taking place from March 12-17, was to express gratefulness to officers and soldiers of the public security forces and offered chances for staff of the countries' agencies to enhance understanding and further strengthen solidarity and friendship. It saw 18 teams playing in men's football and badminton.
At the closing ceremony later on the same day, Lao Deputy Minister of Public Security Lieut. Gen. Kongthong Phongvichith spoke highly of the role and significant contributions by Vietnamese public security experts to the development of the Lao public security force over the years, thereby contributing to the achievements and successes of the Lao revolution and maintain order and stability in the country during its national construction process./.
Four trains for first metro line to arrive in HCMC before July
The next four trains for the first metro line project in HCMC are expected to be transported from Japan to Vietnam between April and July this year if the Covid-19 pandemic is brought under control, said Huynh Hong Thanh, deputy head of the Management Authority for Urban Railways (MAUR) of HCMC.
During an inspection by a team led by HCMC Chairman Nguyen Thanh Phong on March 16 into the construction site of the Ba Son underground station, part of the first metro line project, Thanh said two trains were scheduled arrive in Vietnam in April or May. Two months later, the next two trains would be handed over to Vietnam, news site VnExpress reported.
After arriving in HCMC, the four trains, together with the first one which was transported to Long Binh Depot in Thu Duc City in October last year, will be operated on a trial basis.
MAUR had earlier planned to run the trains on a trial basis in the last quarter of this year. They will run on an elevated section from Binh Thai Intersection to Long Binh Depot before the entire system is put into trial operation.
At the same time, other works serving the metro line's operation will also be conducted, such as training laborers, transferring technology, checking and handing over the project.
The first metro line in HCMC was designed to have 17 three-carriage trains. Each train is capable of carrying 930 passengers and can move at a maximum speed of 110 kilometers an hour on elevated sections and 80 kilometers an hour on underground sections.
The average distance between every two stations is over one kilometer, so trains will run at a speed of some 40 kilometers per hour.
According to Thanh, the project is facing some obstacles. However, the progress of some packages has been ensured, such as the CP1b package to build an underground section from the Opera House station to the Ba Son station, which is expected to be 99% complete by the middle of this year.
He added that the project was still expected to be completed by the end of this year as planned. Due to the pandemic, MAUR will come up with another detailed plan on the project's progress, assess the impact of Covid-19 on its execution and propose new solutions.
HCMC Chairman Phong said the city had directed MAUR to determine when the project would be put into commercial operation, which will be a foundation to work out difficulties.
The first metro line project requires an investment of VND43.7 trillion. It was designed to be nearly 20 kilometers long with three underground stations and 11 elevated stations.
The project is some 83% complete and is expected to be put into operation next year.
NA Chairwoman works with An Giang on election preparations
National Assembly (NA) Chairwoman Nguyen Thi Kim Ngan on March 18 asked the Mekong Delta province of An Giang to pay more heed to safeguarding security and order as well as COVID-19 prevention and control at border areas, thus ensuring the safety of elections of deputies to the 15th NA and all-level People's Councils for the 2021-2026 tenure, which are slated for May 23.
At a working session with the provincial steering committee for elections, Ngan, who is also head of the National Election Council, urged An Giang to continue with information and communications tasks to raise public awareness about the elections.
Channels seeking public opinions on the elections should be set up, she said, adding that conferences collecting constituents' votes of confidence on candidates need to be held as scheduled.
The Chairwoman called for the training of personnel in charge of election work, especially members of election groups.
Lauding An Giang's preparations, the top legislator said it has seriously observed guidelines on reducing both constituencies and deputies.
Nguyen Thanh Binh, Deputy Secretary of the provincial Party Committee, Chairman of the provincial People's Committee, and head of the steering committee for elections of An Giang, said the province will elect nine deputies to the 15th NA and 62 others to the provincial People's Council.
As of 5pm on March 14, the steering committee had received dossiers from 125 candidates, including 15 for candidacy for the NA, he said.
District-level steering committees for elections have also announced lists of constituencies and the number of deputies to be elected in each constituency, as scheduled, according to Binh./.
Belgium's Ixelles mayor appreciates contribution of Vietnamese to local COVID-19 response
Christos Doulkeridis, Mayor of Ixelles, a district of the Belgian capital Brussels, expressed his sincere appreciation on March 17 of the Vietnamese community's contribution to the local COVID-19 response.
Vietnamese people are truly part of the local community, Doulkeridis said when accepting 1,200 face masks donated to the district by the Vietnamese Association in Belgium.
Everyone must engage in the fight against this deadly pandemic, he continued, and the symbolic gesture made by the Vietnamese community shows that everyone can play a part in the fight with a very important tool, face masks, being an expression of mutual protection.
He also spoke highly of the sense of responsibility among Vietnamese people in Belgium, saying they have fully integrated into the local community.
President of the Vietnamese Association in Belgium, Huynh Cong My, who handed over the donated face masks, said Vietnamese people appreciate how the administrations of Ixelles and Brussels at large have supported their integration efforts.
Data from 2019 indicates that about 14,000 Vietnamese were living in Belgium at that time./.
Campaign to promote public exercise, sport activities
A campaign "All people take exercises following the example of great Uncle Ho" in 2021-2030 will be launched at a ceremony in Ho Chi Minh City on March 28, according to the Vietnam Sports Administration (VSA) under the Ministry of Culture, Sports and Tourism.
An annual Olympic Run Day for Public Health 2021 will take place on the same day, the VSA said.
The VSA set to lift the total of people participating in regular exercise and sport activities to over 38 percent by 2025 and over 42 percent by 2030. Meanwhile, the rate of families joining sport activities is expected to reach over 28 percent, and 32 percent in 2025 and 2030, respectively.
The department also aims to have all communes and wards nationwide having grassroots cultural and sports establishments meeting the standards prescribed by the Ministry of Culture, Sports and Tourism.
Up to 98 percent of communes and wards, and 100 percent of districts, provinces and central-run cities are expected to organise sport festivals at all levels, the VSA said./.
Ministry eyes over 9,000 km of expressway by 2050
The Ministry of Transport is striving to have 5,000 km of expressway by 2030 and over 9,000 km by 2050, according to Minister Nguyen Van The.
According to the ministry's statistics released at a working session on road infrastructure planning on March 17, Vietnam is currently operating1,046 km of expressways and building an additional 900 km, equal to 90 percent of the planning scheme.
Experts said that the linkage between the national road system and other means of transportation has yet to meet requirements. Several seaports, railways and airports, for example, do not connect with expressways yet.
Speaking at the event, The emphasised the policy of reducing the market share of road transportation, and increasing the market shares of waterway, railway, aviation and seaway transportation.
Accordingly, he requested reducing public investments in roads and increasing in public investments in other means of transportation.
The minister also stressed the need to look back on shortcomings that make the ministry fail to reach 2,500km of expressways by 2020, including slow public investment disbursement and slow site clearance.
To achieve the goal of 5,000 km of expressways by 2030, it is necessary to have breakthrough policies to develop expressway infrastructure and gain the Prime Minister's allowance to complete all site clearance before building investment projects./.
Group exhibitions open at Galerie Quynh
A group exhibition featuring works of Vietnamese and French artists has opened at Galerie Quynh.
The exhibition showcases paintings, installation works and video installations by French artist Nadège David, Vietnamese-American multi-disciplinary artist Trọng Gia Nguyên, and the Đà Nẵng-based visual and multimedia artist Xuân Hạ.
Through the works, the artists reflect bodily experiences in mediating and expressing perception, memory and culture.
The exhibition will be on view until April 10. The gallery is at 118 Nguyễn Văn Thủ Street in District 1.
HCM City accelerates completion of urban planning project
Ho Chi Minh City is eyeing to become a centrally- run special urban area, the nation's biggest economic hub of tourism, industrial services, industry and high-tech agriculture.
To this end, it is working to complete a series of urban planning projects, including an overall urban planning scheme by 2040 and a planning scheme of Thu Duc city.
For the overall planning scheme with a vision to 2060, the city will cover a total of 2,123.7 sq. km, including 28.7 sq. km of Can Gio sea encroachment urban area.
Its urban development is associated with orientations to adapt to climate change and sea-level rise as well as a multipolar structure.
It will have new urban areas, with key locations including Thu Duc city – a creative high-interactive urban model, Hiep Phuoc port urban area, Tay Bac urban area, Binh Quoi-Thanh Da urban area, and Can Gio sea encroachment urban area.
Notably, HCM City will build Thu Duc into a city of a knowledge-based economy and artificial intelligence, serving as a driving force behind the growth toward the 4th Industrial Revolution of HCM City and the region.
The planning of Thu Duc is the central task in the southern economic hub's overall planning.
As the eastern gateway of HCM City, Thu Duc city is set to span 21,156.9 ha and be developed into a centre of innovation and connectivity to assist the growth of other urban areas in the HCM City metropolitan area, which consists of HCM City and seven key economic hubs in the South./.
Craig Thomas Gallery presents new works by Vietnamese artists
Craig Thomas Gallery is displaying new works by contemporary Vietnamese artists this month.
The showcase includes a preview of paintings and sculptures from artists Phạm Thanh Toàn, Nguyễn Trọng Minh, Lim Khim Katy and Phạm Đinh Tiến. These works will be displayed at exhibitions this year and in 2022.
The artists, most of whom are graduates from the HCM City Fine Arts University, have had works displayed at the Việt Nam Fine Arts Museum, the HCM City Fine Arts Museum, and galleries in the city and Hà Nội.
The gallery is open for visitors from 1-6pm between Tuesday and Saturday. The venue is located at 27i Trần Nhật Duật Street in District 1.
Opening ceremony and festivities of Hoa Lư Festival to be halted
The annual festival of Hoa Lư in the northern province of Ninh Bình will be held without festivities this year, according to the Provincial People's Committee.
Due to the COVID-19 pandemic, the festival will be celebrated on a small scale but its respectful spirit will still be retained to ensure both locals and tourists' safety, the organisers said.
Instead of holding the opening ceremony of Hoa Lư Festival as usual, Ninh Bình Province will exclude its opening ceremony and all other festivities.
Only some traditional ceremonies will be organised by Hoa Lư District People's Committee and the Department of Culture and Sports of Ninh Bình Province, such as the temple-opening ceremony, water procession, the ceremony of Buddha bathing and the thanksgiving ceremony.
The Department of Culture and Sports of Ninh Bình Province will preside over the incense offering ceremony.
Earlier, Ninh Bình Provincial People's Committee drew up a plan for the organisation of Hoa Lư Festival 2021 in November 2020.
The annual festival is one of 100 national intangible cultural heritages. Together with the ancient capital of Hoa Lư, the Hoa Lư Festival is an important part of the World Natural and Cultural Heritage Site of Tràng An scenic complex. It aims to commemorate the national heroes Lê Đại Hành and King Đinh Tiên Hoàng who built and protected the country.
Over the years, the traditional festival has had almost all of its traditional rituals restored, honouring the cultural values of the Đinh-Tiền Lê dynasty (968-1010).
Held from the 9th to the 11th day of the third lunar month, which falls on April 20-22 this year, Hoa Lư Festival typically attracts thousands of attendees.
Quang Ninh Province announces plans to resume classes for students affected by pandemic
The Department of Education of Training in the northern province of Quảng Ninh has proposed two options for students from pandemic-stricken areas to resume classes.
The proposal, which was submitted to the provincial People's Committee for approval, aims to bring them back to school as soon as possible.
According to the department, as many as 534 high school students weren't able to return to school due to the COVID-19 pandemic as of March 13. Of which, 94 students were isolated in Quảng Ninh Province while the rest were quarantined in Hải Dương and other provinces.
In the first option, the students would return to Quảng Ninh Province and undergo safety requirements. Specifically, those from locked down areas or those under social distancing in Hải Dương Province will be quarantined at centralised quarantine centres.
Students who live in Hải Dương Province but are not in locked down areas or those with social distancing requirements will be tested for SARS-CoV-2 and self-quarantine at home for 14 days.
Regarding students who live in other provinces and cities, if they are under quarantine, they will return to school after completing the mandatory period, the department said.
Those who aren't in quarantine can return to school but they will have to make a health declaration to local health authorities.
Students who are under quarantine in Quảng Ninh Province will resume classes after the quarantine period ends and they test negative for the novel coronavirus.
In the second option, the province will isolate students who are subject to quarantine at centralised quarantine zones before returning to school.
Hạ Long City plans to waive all costs for quarantine and COVID-19 tests for students and their relatives when they return to the city to study.
To ensure the quality of education, the provincial Department of Education and Training also directed educational establishments to maintain online learning and other forms of learning to consolidate knowledge for students who have not yet returned to school as they are in quarantine.
Hanoi's ten most outstanding young faces of 2020 announced
Ten outstanding young Hanoians will be honoured at a ceremony to be held by the Ho Chi Minh Communist Youth Union's Hanoi chapter on March 20.
The outstanding individuals include Nguyen Manh Quan (born in 2003, 12th grader from the Hanoi-Amsterdam High School for the Gifted; Associate Professor, Dr. Pham Chien Thang (born in 1987, lecturer in the Faculty of Chemistry, Hanoi University of Natural Sciences under the Vietnam National University); Dr. Luu The Loi (born in 1991, CEO and co-founder of Kyber Network), Nguyen Thi Thu (born in 1988, Director of Tam An Cooperative in Thuong Tin District, Hanoi; Lieutenant Vu Ngoc Hoang (born in 1992, Dong Da District Police); football player Do Hung Dung (born in 1993);
Other excellent young people are Master, Doctor Pham Van Phuc (born in 1990, the National Hospital of Tropical Diseases); Master, Doctor Tran Anh Duc (born in 1989, Department of Obstetrics, Hanoi Obstetrics and Gynaecology Hospital); Engineer Tran Trung Hieu (born in 1992, Founder and Executive Director of TopCV Joint Stock Company); Master, Researcher Ung Thi Hong Trang (born in 1987, the National Institute of Hygiene and Epidemiology).
The youngs people are being acknowledged for their marked achievements in such areas as study, scientific research, economic development, national defence-security, culture, arts, sports and voluntary activities.
Air ticket prices on Reunification Day-May Day holiday increase
Prices of air tickets on Reunification Day (April 30) and May Day holiday have increased, particularly for beach tours.
The pandemic has been basically controlled in Vietnam, so many people have flocked to book tours.
Budget carrier VietJet Air's cheapest one-way air ticket on Hanoi-Nha Trang route on April 30 is VND1.7 million (USD73.91), including surcharges. Meanwhile, national flag carrier Vietnam Airlines' return tickets on the route is VND5.36 million.
Hanoi-Phu Quoc flights have the highest prices with VND2.9 million for Vietnam Airlines' one-way ticket, including surcharges. For Bamboo Airways, the ticket is VND2-3.1 million.
VietJet Air's one-way tickets for flights from Hanoi to Quy Nhon and Danang is less than VND1 million, excluding surcharges. For Vietnam Airlines, the tickets range between VND1.5-2.5 million, including surcharges.
Air tickets on HCM City-Phu Quoc route are also on the rise, ranging from VND1.7-3.5 million; while the tickets for flights from Hanoi, HCM City to other tourist sites on the Renunciation Day and May Day occasion have considerably increased.
According to travel companies, the number of customers who book air tickets and hotel rooms for their tours on the occasion has increased.
HCMC tourism sector to digitalize tourist attractions
The tourism sector in Ho Chi Minh City is planning to implement digitalization on tourist attractions in the city this year, said Director of the Department of Tourism Nguyen Thi Anh Hoa yesterday.
The city tourism sector is facing severe economic hardship in the wake of the Covid-19 crisis. Digital technologies, such as immersive, virtual and augmented reality and 3D, are an increasingly important factor for success when it comes to attracting tourists to a destination.
The city will digitalize tourist destinations with 360° photo platform, virtual 3D pictures, flycam, and virtual reality technology and implement QR Codes to provide area information of 100 tourist attractions, museums and cultural heritage sites.
Presently, the Department of Tourism is preparing for a program "100 interesting tourist attractions in HCMC" which will be for promoting domestic and international tourism. The sector will focus on applying online media as well as other approaches to identify the city's designed tourism brand name.
Moreover, the sector will also make short movies about the city's culture, cuisine and lifestyle as well as multimedia " Vibrant Ho Chi Minh City" to increase brand awareness and lure visitors.
Vietnam to tighten cyber security for digital transformation, e-government
In the last 5 years, both the central Government, the local authorities, and the community have wholeheartedly supported the establishment of an e-government in Vietnam, leading to such impressive success in only 2 years adopting Resolution No. 17/NQ-CP.
The only unfulfilled targets are those related to online public service use of citizens and digital identification, authentication.
Minister of Information and Communications Nguyen Manh Hung shared that the Vietnamese digital government will be officially launched in 2025, letting it enter the global Top-50.
At that time, all governmental services will be automatically offered 24/7 with customizable features. New public services will be developed based on the existing open databases, which is the cooperation between the Government, businesses, IT experts, and the community.
Along with the digital economy and society, this digital government is the key in the national digital transformation process. Considered as the leader, the digital government is the top priority for development at the moment.
The transformation from an e-government to a digital one, or from online public services to digital ones, is the foundation. In that process, there will be a shift from IT systems to digital platforms, from service access to database access, and from the participation of governmental agencies to contribution of both the Government, citizens, and related businesses.
If the challenge in the e-government is inter-connection, the trial in the digital government is change management.
In 2020, certain critical national-leveled databases in the fields of business, social welfare, healthcare, education, and civil status were completed. They have significantly reduced paperwork in administrative procedures.
Praising the above results, Prime Minister Nguyen Xuan Phuc insisted that it is vital to ensure cyber security and protect the national sovereign on the cyber space while carrying out the digital transformation process.
He added that the national databases must be more effectively exploited to create a sustainable digital government, economy, and society.
At the moment, the suitable legal environment for the development of an e-government in Vietnam is still not perfect, and certain necessary decrees regarding personal data as well as identity protection have not been released yet.
Therefore, in the upcoming time, the Government and related state agencies must prepare these legal documents as soon as possible so that the establishment of an electronic and then digital government can be further facilitated.
Over VND21.5 trillion to be poured into six traffic projects linking HCMC, Long An
The HCMC Department of Transport has written to the municipal government proposing prioritizing six traffic projects with total investment of over VND21.5 trillion connecting HCMC with the Mekong Delta province of Long An from now until 2025.
As many as 23 roads connecting HCMC with Long An Province need investment, with 12 existing roads in dire need of expansion, nine road projects having been approved and the remaining two needing to be added to the general plan, according to the municipal department.
The six projects proposed for the 2021-2025 period include building the Tay Bac road project with a length of some 19.8 kilometers that will start at National Highway 1A in Binh Tan District and end at Ring Road 4 near Hau Nghia Town in Long An Province, and investing in Nguyen Van Bua Street linking Hoc Mon District and Long An Province's Duc Hoa District.
The municipal department also proposed expanding the Vo Van Kiet Avenue in HCMC's outlying district of Binh Chanh to connect the city with the Hai Son-Tan Do industrial park in Duc Hoa District in the Mekong Delta province. The projected road that will start at Ring Road 3 is set to cost VND3.3 trillion.
Besides, National Highway 50 running through Binh Chanh District and Long An Province's Can Giuoc District needs upgrading and expanding with total investment of VND2.15 trillion, the local media reported.
Another traffic project comprises building a 3-kilometer-long road and the 409-meter-long Rach Doi bridge to connect Le Van Khuong Street in the city's outlying district of Nha Be with Provincial Road 826C in Can Giuoc District.
The sixth project is to build a road running parallel to National Highway 50 in Binh Chanh District to connect it to Can Giuoc District that had been approved by the prime minister. The project is set to require VND4.3 trillion.
PM fixes deadline for submission of new regulations on environmental protection
Prime Minister Nguyen Xuan Phuc has ordered the Ministry of Natural Resources and Environment to draft a new Decree on administrative sanctions against violations in the field of environmental protection.
This is part of the Government's plan which figures out measures to implement the revised Law on Environmental Protection adopted by the National Assembly in November last year.
The administrative sanctions includes application of sanction forms, remedial measures with respect to individuals, organizations committing acts of administrative violations according to provisions of law on administrative sanctions which are implemented by the competent persons.
At present, administrative sanctions for violations in environmental protection are specified in the Government's Decree No. 55/2016/ND-CP dated November 18, 2016.
The Government chief also tasked the ministry to develop a decision on a list of domains and establishments subject to greenhouse gas emission inventory and another decision approving a plan for environmental improvement and restoration of areas where pollution of soil environment is especially serious in accordance with Point C, Clause 1, Article 19 of the 2020 Law on Environmental Protection.
It will also be responsible for drafting a decision prescribing criteria for environmental protection in the field of construction and rural development.
The aforesaid draft documents shall be submitted to the Prime Minister for consideration in the first half of 2021./.
Hanoi, HCM City named top places for local delicacies
Both Hanoi and Ho Chi Minh City have been voted as the leading destinations to enjoy traditional cuisine or street food, as well as being top places for food shopping among local travelers, according to a survey conducted by renowned travel website Booking.com.
Hanoi tops the list in terms of best destinations for traditional Vietnamese food, with Booking.com stating that the top dishes in Hanoi are typically inexpensive. Despite their cheapness, an array of tasty treats can be found within the Old Quarter's narrow alleyways and the bustling street markets situated throughout the capital.
"This is where you can find the familiar and world renowned 'pho' noodles served with bagel twists or the original 'bun cha' that was once enjoyed by President Obama during his 2016 visit in Vietnam. 'Bun dau mam tom', a stinky yet tasty and crispy delicacy originated in Hanoi, is a definite must for daredevils undisturbed by the idea of pungent shrimp paste," the website explains.
Furthermore, Ho Chi Minh City was named as best city for street food. The survey states that the southern metropolis is the city that never sleeps and appeals to the taste buds of travelers due to its countless food stalls and markets that are open around the clock.
"A city trip to Saigon is incomplete without indulging in all-time favourites such as bot chien fried in a large flat pan with whipped eggs, the legendary Vietnamese pizza or quesadilla grilled on the coal stove, duck embryo in tamarind sauce and beef offal steamed in coconut milk served with local banh mi," the website highlights.
"With all the finger-licking and creative dishes the city has to offer, it is no surprise that travellers have pinned Ho Chi Minh City as one of the top endorsed destinations for street food on Booking.com."
Van Quyet among 10 outstanding young Vietnamese faces of 2020
Famous footballer Nguyen Van Quyet of Hanoi FC has been listed among the outstanding young Vietnamese faces of 2020, with the annual national award held to honour young local people who have excelled in their respective fields.
The 30-year-old striker first rose to prominence after captaining the Vietnamese U19 men's football team which went on to record a victory over Thailand's U21 side to win the International U21 Thanh Nien (Youth) Newspaper Cup in 2010.
Last year saw the forward make a number of great contributions to Hanoi FC as they lifted the National Cup and went on to finish as runners-up in the V.League 1.
As captain of Hanoi FC, Van Quyet also won both the Golden Ball Award and claimed the title of outstanding athlete in the same year.
The award to honour outstanding young Vietnamese faces is a highly-esteemed event organised by the Ho Chi Minh Communist Youth Central Committee with the purpose of recognizing the various achievements of people aged under 35 from across the nation.
This year the awards ceremony is set to get underway on March 21 in Hanoi.
Tourism sector seeks solution to stimulate tourism demand
The Vietnam Tourism Association and Hanoi Department of Tourism are set to co-ordinate efforts to organise the national tourism forum in April which will be held in Hanoi in an effort to seek solutions and attract greater tourist numbers in the near future.
Vu The Binh, vice chairman of the Vietnam Tourism Association, said during the ongoing wait for borders to open for international tourism, the local tourism industry should primarily focus on developing domestic tourism and organising a diverse range of activities that can stimulate tourism demand.
Binh noted that the upcoming event is anticipated to offer an ideal venue for travel firms and localities nationwide  to strengthen connectivity for the purpose of domestic tourism development.
Following the national tourism forum, the Vietnam Tourism Association and other agencies in the tourism sector are expected to host the Vietnam International Travel Mart (VITM 2021) which is scheduled to take place between May 5 and May 8.
Furthermore, Hanoi tourism firms have recently organised a number of affiliate schemes aimed at creating new domestic tourism products that can meet the needs of customers, such as the VGreen Caravan tourism programme which will encourage travelers to visit northwest localities.
Former heroin user helps others fight drug addiction
Nguyễn Minh Hiếu's life used to be spent in and out of rehab centres in HCM City to fight his drug addiction. After seven times in rehab, he finally kicked his addiction.
As well as rebuilding his own life, Hiếu has set up a volunteer group to help local drug addicts get back to normal life.
"I set up the Nụ Cười (Smile) Group to help those who have lost their way just like I did get rid of drugs and become a good person," he told the online newspaper baochinhphu.vn.
Located in an apartment in HCM City's District 8, the group focuses on helping intravenous drug users as these people face a high risk of HIV transmission. These addicts are given new needles and HIV tests, as well as support to access methadone maintenance therapy and antiretroviral (ARV) therapy.
Several times per week, the group goes to hotspots for drug addicts to collect used needles to help curb the transmission of HIV/AIDS.
Hiếu and the group have been doing this job for eight years. Seeing and talking to hundreds of drug addicts, Hiếu said what they needed most was positive energy to get close to drug users.
"Drug addicts have only one goal: how to get money to satisfy their addiction. What I need to do is to let them trust me, but not by giving them money," he said.
"They might not understand our good intentions, but they will later on," he said.
Hiếu said some people in his group were drug addicts and still under methadone treatment and were in the group to try and give up their drug habit and help others, too.
When asked about his family, Hiếu said proudly that they had supported everything he had done.
"My family used to lose faith in me after many broken promises to give up drugs. They were desperate about me being an addict father, husband and son. Whenever I rushed out of the house, they were hopeless," he said.
"But now they care and support me, even when I'm out all day. How proud!" he said.
Soc Trang border guards use loudspeakers in COVID-19 communication campaign
Over the last year, people living in border areas of the southern province of Sóc Trăng have gotten used to seeing border guards carry a loudspeaker on their motorbikes telling them how to protect themselves from COVID-19.
Colonel Lê Văn Anh, head of the Province Border Guard Command's COVID-19 Prevention and Control Committee, said that during the complex development of the COVID-19 pandemic, local border guards strengthened preventive measures, especially communication.
Many initiatives had been launched and proved effective, Anh said, noting that using loudspeakers in communication campaigns was most effective and economical.
During the pandemic, public communication events to attract crowds were not allowed, but the loudspeaker systems of communes and wards were unable to reach remote areas, Anh said.
With a portable loudspeaker, a USB with recorded information and a motorbike, a border guard could access people in all corners of the province, he said.
Major Lê Văn Băng of An Thạnh Ba Border Station in Cù Lao Dung District said they also drew posters and slogans on COVID-19 prevention and control and stuck them on the loudspeakers.
In the morning and the afternoon, border guards drove motorbikes with loudspeakers turned on, Băng said.
"When reaching busy areas, we slow down or park there so people can hear the information clearly," Băng said.
During the pandemic, they have explained the Ministry of Health's 5 K message: Khẩu trang (face mask) – Khử khuẩn (disinfection) – Khoảng cách (distance) – Không tụ tập (no gathering) – Khai báo y tế (health declaration), and called on people to install the Bluezone contact tracing application.
Ngô Châu, head of Âu Thọ A Residential Group in Vĩnh Hải Commune, Vĩnh Châu District, said border guards and their loudspeakers helped people learn a lot about COVID-19 prevention and control.
"Knowing and understanding the Government's policies and recommendations on disease prevention and control, local people strictly implement preventive measures," Châu said.
As the commune is home to many people of the ethnic Khmer group, border guards also used the Khmer language, Châu said.
Border guards also visited residents' houses to advise them on personal hygiene and food safety.
"The border guards told us to sanitise hands, use cooked foods and boiled water, keep away from wild animals and wear face masks," Châu said.
According to the province's Border Guard Command, in the last year, border guards gave people in border areas about 18,000 medical face masks, more than 500 bottles of hand sanitiser and some 10,000 leaflets with disease prevention and control information.
Student research projects focus on pollution, waste reduction solutions
Six projects by university students that were displayed today at the eProjects Innovation Showcase contest at the Cao Thắng Technical College in HCM City mostly focused on environmental pollution and waste management solutions.
A team from the HCM City University of Technology and Education presented a solution for discarded chewing gum while students from Lạc Hồng University in Đồng Nai Province had one for packaging in the e-commerce industry.
Sorting plastic was the focus of students from Cần Thơ University, while a team from the Đà Nẵng University of Technology had a platform for plastic waste management.
Students from the HCM City University of Technology, who showed how to reuse construction materials, won the prize for the most effective solution.
Students from the Industrial University of HCM City displayed technology to modernise Dow Vietnam Company's customer order and tracking systems.
The team from the HCM City University of Technology and Education won the prize for the best presentation and the Đà Nẵng University of Technology won for teamwork.
The event enabled students to demonstrate their industry-mentored prototypes to peers and professionals from across the country.
Over the last semester, eProjects teams developed their prototypes through regular consultation with professional mentors, who set out a vision for each project, shared their technical expertise and regularly met with the students.
Since September the teams worked online, on campus and even at Dow's plant to build and test their prototypes.
The showcase was a part of USAID BUILD-IT and the Dow Vietnam Stem Programme which has been carried out for four years.
Speaking to showcase attendees, USAID Vietnam's acting mission director, Bradley Bessire, said: "These applied  projects demonstrate  how  the  BUILD-IT  Alliance  links  industry  expertise with universities' teaching capacity to give students experiences that develop both the technical and soft skills they'll need to succeed in Việt Nam's ever more advanced workforce."
USAID sponsors BUILD-IT Project which is carried out by Arizona State University.
Concert features works by 20th-century's lesser-known composers
A concert introducing works from composers that have not been performed much in Việt Nam will take place at Goethe Institut next Monday.
The concert, the first of the '20th Century Music Concert Series', will present a repertoire featuring works by composers from Japan to Eastern and Western Europe and America, including Benjamin Britten, György Ligeti, Toru Takemitsu, Nikolai Kapustin, Friedrich Gulda, and Frederic Rzewski.
Artists and lecturers of Inspirito School of Music, including oboist Hoàng Mạnh Lâm, trumpeter Yuki Urushihara, pianists Ngô Phương Vi, Lưu Đức Anh, Dương Hồng Thạch, and Phó Đức Hoàng, will perform in the concert.
The concert will start at 7pm. The Goethe Institut is at 56-58-60 Nguyễn Thái Học Street. Recommended donation: VNĐ100,000.
Thousands of counterfeit fashion products seized in Nam Dinh
Market management authorities have seized thousands of Chanel, LV, and Hermes counterfeit products in Nam Dinh Province.
On March 17, Vietnam Directorate of Market Surveillance worked with the Department of Market Surveillance and the police in Nam Dinh to raid a 500-square-metre warehouse in Dai Lai Village, Vu Ban District and found a large number of counterfeit products. The owner was unable to provide any necessary papers.
Nguyen Ky Minh from the Vietnam Directorate of Market Surveillance said the sellers advertised and sold their products via social media. They created various accounts with different names and used them alternatively to avoid attention from the authorities.
An empty shop on Ho Tung Mau Street in Hanoi was used as a decoy to promote their products. Minh said it had caused some difficulties during the investigation.
It is estimated that 20,000-30,000 products were kept at the warehouse worth about VND6bn (USD259,000).
A representative of Hermes said Tam Son International Company is their sole distributor in Vietnam. There are also only two Hermes stores in Vietnam besides the products sold at Lotte shopping centres and some duty-free shops.
Private investment proposed for HCMC-Can Tho express railway project
The Southern Institute of Science and Technology has proposed executing the HCMC-Can Tho high-speed railway project under the public-private-partnership (PPP) model, and the total required investment of some US$10 billion will be sourced from private enterprises.
Under the proposal sent to the Ministry of Transport, the institute also mentioned the adjustment of the railway's direction and the development of nine stations in satellite urban areas, Dan Tri news site reported.
The main route from HCMC to Can Tho will need an estimated investment of more than US$4.4 billion, while a branch from the Thanh Phu station in Long An Province to the Hiep Phuoc Port in HCMC will require US$791.35 million. The remaining US$4.6 billion will be spent on stations and other facilities.
The express railway will have a total length of 134.9 kilometers, passing through five localities, comprising HCMC, Long An, Tien Giang, Vinh Long and Can Tho. The railway will stop at nine stations, beginning at Tan Kien Station in HCMC and ending at Can Tho Station in Can Tho City.
In addition, the Thanh Phu-Hiep Phuoc branch will be 44 kilometers long, running through HCMC and Long An.
The Southern Institute of Science and Technology has also proposed adjusting the direction of the railway to the right of the HCMC-Trung Luong-My Thuan Expressway, completely different from the previous plan.
According to the institute, with the adjustment, the railway will share a corridor with the expressway, reducing the separation between residential areas and industrial parks. Moreover, the land bank for the satellite urban area development will be larger.
The adjustment will also help shorten the length of the railway by five kilometers, saving nearly US$200 million.
A leader of the Vietnam Railway Authority said the HCMC-Can Tho express railway is an important traffic route which will help ease the traffic on roads.
The authority assigned the project's management board to choose a consulting firm to conduct a prefeasibility report for the project using the State budget.
As for the financial plan proposed by the Southern Institute of Science and Technology, the authority asked the institute to make it more specific. The institute should clarify the investment method and financial plan in case foreign investors want to get involved in the project.
HCMC set to rename hospitals in Thu Duc City
District 2 Hospital, District 9 Hospital and Thu Duc District Hospital will be renamed as Le Van Thinh Hospital, Le Van Viet General Hospital and Thu Duc City Hospital, respectively.
The HCMC government has approved a plan to re-organize ward- or district-level healthcare centers and hospitals under the HCMC Department of Health after the rearrangement of administrative units at the district and commune levels of Thu Duc City.
Among the three renamed hospitals, Le Van Thinh Hospital, located at 130 Le Van Thinh Street in Thu Duc City's Binh Trung Tay Ward, is a Grade-1 non-business unit and has a capacity of 500 in-patient beds, Nguoi Lao Dong Online reported.
Le Van Viet General Hospital, headquartered at 387 Le Van Viet Street in Tang Nhon Phu A Ward, is a Grade-2 health non-business unit, with a capacity of 100 beds, while Thu Duc City Hospital at 29 Phu Chau Street in Tam Phu Ward is a Grade-1 health non-business unit and has a capacity of 800 beds.
Besides, the city also re-organized the District 2 Healthcare Center, the District 9 Healthcare Center and the Thu Duc District Healthcare Center into the Thu Duc City Healthcare Center under the HCMC Department of Health.
Construction process of nationwide expressway system reaches 90 percent
The Ministry of Transport informed that the 1,046-kilometer expressway system nationwide has been put into operation so far and currently there are more than 900 kilometers being under construction, reaching over 90 percent as planned.
Accordingly, the North-South Expressway to the East, the Eastern Expressway of Ho Chi Minh Road, Bien Hoa – Vung Tau Expressway, Expressway connecting to Huu Nghi Border Gate in Lang Son Province and Ring Roads of Hanoi and Ho Chi Minh City have not been implemented.
According to Minister of Transport Mr. Nguyen Van The, the delay was due to the slow site clearance progress.
Based on the actual situation, the transport sector set the target up to 2030 concentrating on construction of inter-regional expressway projects connecting to sea ports, air-ports, striving to complete 5,000 kilometers of expressway in 2030 and more than 9,000 kilometers in 2050.
To speed up the progress, Minister Nguyen Van The said that there should be a breakthrough mechanism for expressway infrastructure development in the coming time, a breakthrough in the way of implementing, selecting a portfolio, and submitting to the Government for approval of the whole site clearance to form the entire investment project of 5,000 kilometers of the expressway.
EVNHCMC's youth launches energy-saving activities to respond Earth Hour 2021
The Ho Chi Minh Communist Youth Unions of HCMC, Thu Duc City and the Electricity Corporation of HCMC (EVNHCMC) have co-organized many activities in response to the 2021 Youth Month program and Earth Hour 2021 campaign.
Accordingly, the Ho Chi Minh Communist Youth Unions of EVNHCMC and Thu Duc City have kicked of the "Joining hands to build Thu Duc New City" program.
In March, the Ho Chi Minh Communist Youth Unions of EVNHCMC has implemented a series of activities to mark the 90th anniversary of the establishment of the Ho Chi Minh Communist Youth Union and the 45th anniversary of the founding of EVNHCMC, such as installing safe electrical systems in three alleys and 50 households, implementing the programs of "Civilized, safe and clean apartment" and "Using electricity safely and economically in school".
HCMC asks for ODA loan for Water Environment Improvement Project
Ho Chi Minh City authorities have asked for an Official Development Assistance (ODA) loan from Japanese government for its Water Environment Improvement Project.
The Ho Chi Minh City People's Committee has proposed the Japan International Cooperation Agency (JICA) to value the Water Environment Improvement Project and have official document on provision of the loan to improve water environment in Ben Nghe- Tau Hu – Doi – Te canals for the third phase, said the office of the committee yesterday.
Presently, the city has been implementing the anti-flooding project and the wastewater treatment project for the 2020 – 2045 period as well as for the 2020 – 2030 period including the Water Environment Improvement Project in Ben Nghe- Tau Hu – Doi – Te canals.
The project includes dredging and building a complete canal system with total length of 13.5 kilometers as well as building a wastewater collection system Nam Sai Gon comprising 43-km culvert system and one wastewater treatment plant with capacity of 100,000 cubic meters a day for the first phase and 170,000 cubic meters a day for the second phase.
Source: VNA/VNS/VOV/VIR/SGT/Nhan Dan/Hanoitimes
VIETNAM NEWS HEADLINES MARCH 19 have 9487 words, post on vietnamnet.vn at March 19, 2021. This is cached page on TechNews. If you want remove this page, please contact us.