Third Vietnam-Singapore IP breaks ground in Binh Duong
Prime Minister Pham Minh Chinh attended the groundbreaking ceremony of another Vietnam-Singapore industrial park (VSIP) in southern Binh Duong province on March 19.
The new VSIP, the third of its kind in Binh Duong and the 11th in Vietnam, sits on an area of 1,000ha with total investment capital of more than VND6.4 trillion.
VSIP III is designed to have complete, green and smart infrastructure to attract investments in the fields of energy, electronics, mechanical engineering, vehicle assembling, support industries, textiles, food, beverage and logistics services, and warehousing.
At the ceremony, Binh Duong granted investment licenses to investors, including a US$1 billion LEGO project.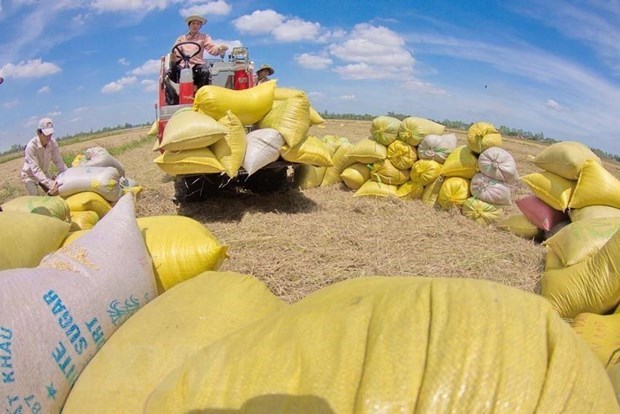 Farmers in southern province of Hau Giang harvest paddy. Experts are optimistic about rice exports as consumption is expected to exceed the rice output. (Photo: VNA)
Vietnam, Malaysia seek to beef up trade ties
Despite difficulties and challenges caused by the COVID-19 pandemic, Vietnam – Malaysia trade has recorded positive signals, potentially achieving a two-way turnover of 18 billion USD in 2025, according to Malaysia External Trade Development Corporation (MATRADE) Director of ASEAN and Oceania Raja Badrulnizam Raja Kamalzaman.
Talking to the Vietnam News Agency on the occasion of the upcoming official visit to Vietnam by Malaysian Prime Minister Dato' Sri Ismail Sabri bin Yaakob on March 20-21, Raja Badrulnizam said Vietnam is the 11th biggest trade partner and the 7th largest export market of Malaysia.
According to the Department of Statistics Malaysia (DOSM), the bilateral trade reached 16.71 billion USD last year, up 41.6 percent compared to 2020.
The figures show a positive development since the two countries established diplomatic relations in 1973 and upgraded their ties to a strategic partnership in 2015.
The two countries are striving to realise a two-way trade target of 25 billion USD by 2030.
Development plan for Mekong Delta in 2021-2030 approved
Deputy Prime Minister Le Van Thanh has signed a decision approving a master plan for the Mekong Delta region in the 2021-2030 period with a vision to 2050.
The region comprises Can Tho city and 12 provinces.
The scheme sets a target for the regional economy to grow at an average rate of about 6.5 percent annually, with its gross regional domestic product in 2030 being 2-2.5 times that of 2021.
It aims to promote the strength of the local agricultural economy towards sustainability and technology application; maintain the proportion of added value at a level of about 20-25 percent by 2030; and make effective use of free trade agreements for expanding markets.
Investment will be poured into the construction and upgrade of 830 kilometers of highways, 4,000 km of national roads, four airports, 13 seaports, 11 passenger port clusters and 13 clusters of inland waterway cargo ports.
Van Don-Mong Cai Expressway to be opened next month
The Van Don-Mong Cai Expressway in the northern province of Quang Ninh is scheduled to be put into operation next month.
Once being put into use, the route will help to shorten the travel time from Hanoi to Mong Cai from six hours at present to just three.
Around 200 workers are currently speeding up the work on the route's section running through Dai Xuyen Bridge.
Work on Van Don-Mong Cai Expressway was kicked off in April, 2019. The project with a total investment capital of more than VND11 trillion (USD474.40 million) is 80.2 kilometres long and has four lanes, running through the districts of Van Don, Tien Yen, Dam Ha and Hai Ha and Mong Cai city.
Once the road is completed, it will connect with the Ha Long-Hai Phong and Ha Long-Van Don highways, creating the longest highway in Vietnam that runs from the northern mountainous province of Lao Cai to Mong Cai via Hanoi and Hai Phong. The route will help to shorten the travel time from Hanoi to Mong Cai to three hours from the current six hours.
Van Don-Mong Cai Expressway will go through Quang Ninh's industrial parks and economic zones, including Quang Yen, Van Don, Hai Ha and Mong Cai.
Industrial property expected to heat up, driven by FDI influx
The industrial property market is expected to heat up this year, driven by an influx of foreign direct investment (FDI), thanks to an improved manufacturing sector and borders reopening which has helped raise investors' confidence.
On 15 March 2022, the Vietnamese Government allowed citizens of 13 countries, including Germany, South Korea, Japan, and France, to travel to Viet Nam for 15 days without a visa.
The industrial park market has been active with investment deals worth billions of dollars in recent months, he pointed out. For example, at the end of December 2021, Gaw NP Industrial broke ground on a ready-built factory project at the 16ha GNP Yen Binh 2 Industrial Centre. At the end of February, KCN Viet Nam held a groundbreaking ceremony for a 13.4ha premium industrial facility in Phu An Thanh Industrial Park, Long An Province.
In February, LOGOS Viet Nam Logistics Venture and Manulife Investment Management established a joint venture partnership to acquire a 116,000sq.m, modern built-to-suit logistics factory valued at more than US$80 million.
CapitaLand Development signed a memorandum of understanding to invest $1 billion in Bac Giang and will develop its first industrial park, logistics park and a township in the country.
BW Industrial Development JSC acquired 74,000sq.m of land in Bac Tien Phong Industrial Zone, developed by DEEP C Industrial Zones.
Meat import demand unlikely to grow sharply this year: agency
The demand for imported meat and meat products is unlikely to skyrocket in 2022, according to the Agency of Foreign Trade under the Ministry of Industry and Trade.
Elaborating its forecast, the agency pointed to the COVID-19 pandemic that has shrunken eating-out services, caused redundant supply, and hampered transportation due to disrupted supply chains.
In January, Vietnam imported 53,700 tonnes of meat and meat products worth 114.13 million USD, up 4.3 percent in volume and 17.9 percent in value month on month, the agency reported. India was the largest among the 37 foreign suppliers of meat and meat products for Vietnam.
The agency said the husbandry sector will continue to face difficulties this year as the pandemic and the African swine fever (ASF) epidemic remain complicated. Besides, domestic production and intermediate costs are still high.
Vietnam's rice exports signal a favourable year in 2022
Vietnamese rice exports have been increasing significantly in the first months of 2022, signalling a favourable year for the country's produce.
Data from the General Department of Customs showed the country exported 974,556 tonnes of rice worth nearly 469.26 million USD in the first two months of the year, up 48.6 percent and 30.6 percent against the same period last year, respectively.
Vietnam's largest rice export market during the period was the Philippines, with the exports to the country rising by 110 percent in volume and 82 percent in value. It was followed by China with 81,880 tonnes.
Experts forecast both rice output and consumption in the global market will increase this year. They even said that in the next one or two weeks, rice export market will be busier. Besides, export prices are also expected to rise again when importers step up their purchases.
Instead of volume, Vietnamese rice exporters have been focusing more on quality to better access the European market to capitalise on the EU-Vietnam Free Trade Agreement (EVFTA).
According to the Department, though the country's rice export volume to the EU last year inched up only 0.8 percent against the previous year to 53,910 tonnes, the produce's export value surged 21.6 percent to 38.07 million USD.
Construction material prices increase
With local construction contractors recovering after the heavy impact of the COVID-19 pandemic, the increased prices of building materials and the labour costs have a significant effect on their performance.
In recent days, steel manufacturers have continued to send notices of higher prices of all types of finished steel to customers.
According to manufacturers, the price of billet and raw materials has increased, so the enterprises adjusted the selling price of finished steel. The selling price of steel in the market exceeded 18 million VND per tonne.
Not only steel, but price of many other construction materials such as sand bricks also increases.
In HCM City's market, most building material stores and interior decoration shops have quoted higher prices for materials.
Levelling sand is more than 200,000 VND per cu.m, building sand 400,000 – 450,000 VND per cu.m, pipe bricks from 1,200 VND to 1,300 VND per piece, while cement price was more than 90,000 VND per bag.
Vietjet Air offers free PCR tests to passengers on international flights
Budget carrier Vietjet Air is offering COVID-19 RT-PCR tests free of charge to passengers on international flights.
A representative from the airline said the programme aims to help passengers feel secure after staying home for a long time due to the pandemic.
Vietjet Air has also introduced new products and services such as SkyBoss Business ticket, spa products, new dishes and special cultural and art programmes during flights, the representative said.
E-commerce platform helps promote exports
The Trade Promotion Agency (TPA) and Alibaba.com jointly organised a conference on March 18 to discuss the export of goods through the e-commerce platform and inaugurate the Vietnam Pavillion on Alibaba.com.
According to Deputy Minister of Industry and Trade Do Thang Hai, thanks to the partnership between the TPA and Alibaba.com since 2021, digital trade activities have been strengthened and renovated to adapt to the new situation.
The MoIT highly values the role of Alibaba.com in supporting Vietnamese firms to learn knowledge and skills to conduct international trade activities, helping them promote sustainable business, he said.
He underlined that the launching of the Vietnam Pavillion on Alibaba.com is evidence of the helpful assistance, which contributes to promoting Vietnamese products' trademarks and connecting Vietnamese businesses with international customers.
VITM 2022 marks comeback of Vietnamese tourism
The Vietnam International Travel Mart (VITM) will take place from March 31 to April 3, which is considered an event marking the reopening of the Vietnamese tourism sector in the new normal, said the Vietnam Tourism Association (VTA) at a press briefing to introduce the event on March 18.
Themed "New normal – new opportunities for Vietnamese tourism," the VITM 2022 is a special event, during which the resumption of inbound and outbound international tourism activities will be announced with specific solutions and roadmap, said VTA Vice Chairman Vu The Binh.
The VITM organising board encourages participating firms and agencies to give ideas to promote the efficiency of tourism management and business activities in a safe and environmentally-friendly manner, thus speeding up the sector's recovery, he said.
The VITM 2022 is expected to feature about 320 booths with the participation of travel firms and management officials from 52 cities and provinces across the country and six foreign countries and territories, namely Japan, the Republic of Korea, Thailand, Malaysia, Taiwan (China) and Turkey. It is estimated to welcome 40,000 visitors and about 2,500 visiting firms.
Vietnam, Malaysia set sights on US$18 bln trade by 2025
There is ample room for Vietnam and Malaysia to achieve the US$18 billion trade target set for 2025 despite numerous COVID-19 challenges, said a MATRADE executive.
Raja Badrulnizam Raja Kamalzaman, director for ASEAN and Oceania of the Malaysia External Trade Development Corporation (MATRADE), made the projection in an interview granted to Vietnam News Agency ahead of the March 20-21 Vietnam visit by Malaysian Prime Minister Dato' Sri Ismail Sabri bin Yaakob.
Kamalzaman quoted the Department of Statistics Malaysia, saying two-way trade between Vietnam and Malaysia reached US$16.71 billion last year, up 41.6% year on year. Of the figure, Malaysian exports fetched US$10.98 billion, up 47.2%, while its imports hit US$5.73 billion, a rise of 31.9%.
According to executive Vietnam is the 11th biggest trade partner and the seventh largest export market of Malaysia. The wo countries are currently striving to meet their bilateral trade target of US$25 billion by 2030.
Middle East a potential post-pandemic export market for Viet Nam
Viet Nam has strong trade relations with the region, especially the Gulf Cooperation Council (GCC) with six member countries – the United Arab Emirates (UAE), Saudi Arabia, Kuwait, Bahrain, Qatar and Oman, with a total population of 65 million (in 2021).
GCC countries have high GDP per capita, with Qatar having GDP per capita of US$60,000 in 2021, followed by the UAE $41,000, Kuwait $25,000 and Saudi Arabia $22,000, he said.
Since 2003, GCC countries have agreed to apply a common import tariff of about 5 per cent throughout the region for most products.
These countries also have a huge import demand, ranging from $2-8 billion, for items such as furniture, plastic products, grains, textiles, footwear, rubber, meat, dairy products, and vegetables.
Net-zero carbon emissions to create sustainable production, consumption in Viet Nam
At the 2021 United Nations Climate Change Conference (COP26), Prime Minister Pham Minh Chinh said that Viet Nam committed to reducing greenhouse gas emissions to achieve net-zero carbon emissions by 2050.
According to Nguyen The Chinh, director of the Environmental Economic Policy Institute, the commitment will be an important turning point for the country's restructuring to gain a low carbon and green economy, which will also help the country achieve rapid and sustainable development as per the Party's policies.
In fact, Viet Nam-based factories of many large foreign corporations are gradually converting to cleaner energy sources for production.
According to NIKE Inc's chief sustainability officer Noel Kinder, by 2030, NIKE's commitment is to reduce greenhouse gas emissions by 65 per cent in its owned or operated spaces, and by 30 per cent across its extended supply chain.
HCM City to speed up social housing development as demand grows
Its chairman, Phan Van Mai, said the city would set up a working team under himself to meet every two weeks with agencies and developers to address problems related to social housing projects.
"The demand for social housing among low-income earners is massive, but the supply is limited."
The city is estimated to need an additional 160,000 affordable apartments by 2030 for its growing population and demand, the city's Department of Construction said.
The city plans to review 33 commercial housing projects each on 10ha or more which are required to set aside 20 per cent of their land for social housing.
According to the department, this will enable the city to have 70,000 housing units.
But developers said they face hurdles since land for housing has become limited in central areas while in suburban districts projects face delays because of red tape.
Experts said developers do not have interest in low-priced housing due to low profits.
Developers who have invested in social housing include Nam Long, Thu Thiem Investment, Thuan Kieu, Van Thai, Thien Phat, Sai Gon Res, Hoang Quan, Phu Cuong, and Sai Gon Real Estate Corporation.
Rising prices of plastic materials put a burden on businesses
The price of plastic resin has increased sharply following the price of oil, putting pressure on plastic enterprises.
According to data from the global financial portal Investing, the price of polyethylene (PE) resin has increased by 10.4 per cent in the past three months, from December 9, 2021 to March 8, 2022. Similarly, the price of polypropylene (PP) resin has increased by more than 10 per cent.
Plastic resins are made from petrol products, typically PP and PE. Therefore, fluctuations in oil prices have directly affected the price of plastic resins.
Plastic resins account for about 60-70 per cent of the cost structure of plastic manufacturing enterprises, thus the current high prices of plastic resins lead to the increases in input costs of plastic enterprises.
In 2021, the price of input materials increased sharply by 1.6 times, making a record hike in history, which greatly affected the performance of the businesses in the industry.
At a meeting with investors on February 17, 2022, Nguyen Hoang Ngan, General Director of Binh Minh Plastics Joint Stock Company (BMP) said last year, the company made a profit of VND214 billion (US$9.4 million), down 59 per cent compared to 2020. This was also the lowest profit in the past 13 years.
In 2022, Binh Minh Plastics sets a high growth business plan, with a target revenue of VND5.68 trillion, an increase of 25 per cent compared to 2021 and pre-tax profit rising by 109 per cent to VND560 billion.
This plan was built on the scenario in which the price of plastic materials in the last months of 2021 and the beginning of this year is stable. However, with new developments from the world geopolitical situation, the company may not fulfil its targets.
Experts highlight Vietnam's positive economic outlook
Vietnam is poised to emerge strongly from the COVID-19 pandemic and place itself firmly on the radar of foreign investors, buoyed by rapid industrialization and a fast-growing middle-class.
Despite the pandemic setbacks in the last two years, new threats, and inflation, the outlook is positive, the article reads.
Meanwhile, The World Bank predicts Vietnam's economy to grow at 5.5 percent in 2022 while the IMF projects a higher 6.6 percent, up from 2.6 percent in 2021.
In addition, VCG, the Singapore subsidiary of VinaCapital projected that Vietnam's GDP may grow by more than 7 percent this year.
Lam Dong airport upgrade proposed
Authorities of the Central Highlands province of Lam Dong are seeking the Ministry of Transport's approval to upgrade Lien Khuong Airport.
Under the recommendation, Lien Khuong Airport will be upgraded from the 4D to 4E category to have a bigger runway, an additional international terminal, taxiway and parking areas and to serve Airbus A380, Boeing 787 or equivalent sized aircraft.
The facelift project with a total investment capital of VND4.28 trillion (USD187 million) will be carried out under a public-private partnership between 2023 and 2026.
Once being upgraded, the project's capacity will be raised to 5 million passengers per year.
The airport was put into operation in 2010 with an annual capacity of two million passengers.
Currently, the airport is serving 15 domestic and international air routes, including Hanoi, HCM City, Phu Quoc, Bangkok, Incheon, and Kuala Lumpur.
Source: VNA/VOV/VNS/SGT
VIETNAM BUSINESS NEWS MARCH 19 have 3186 words, post on vietnamnet.vn at March 19, 2022. This is cached page on TechNews. If you want remove this page, please contact us.